Siili Solutions acquires Haallas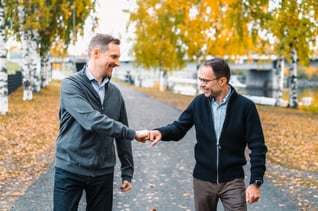 Siili gains a stronger foothold within the public sector by acquiring Haallas Finland Oy

Haallas is a Finnish company specialising in design, technology, and data and has a strong track record especially with public sector clients. The company's customers include THL, Hansel, Metsähallitus, Finnvera, the City of Helsinki and OP.

Haallas is a subsidiary of Valamis Group Oy, from which it was carved-out in the beginning of 2022. Haallas' part of Valamis Group's revenue in 2021 was approximately 5,8 MEUR and gross margin (EBITDA) was approximately 0,9 MEUR. Haallas has offices in Joensuu, Oulu, Lappeenranta and Helsinki and the company employs over 50 people.

The acquisition of Haallas means that Siili will be able to strengthen its business with public sector clients, which is in accordance with Siili's growth strategy published in the spring of 2022.

By joining forces with Haallas Siili also broadens its reach outside the Helsinki region and will grow its personnel with over 50 talented experts.

There is a strong cultural fit between the Siili and Haallas – both companies have built an inclusive "come as you are" culture and invest in the wellbeing and learning of their people.